Bankruptcy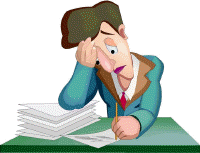 I owe taxes, I owe credit cards, I owe everybody!
When nothing else works and you are dodging bullets from all sides or your problems are more than just back taxes, bankruptcy may be your answer. Old income taxes can be wiped out. Chapter 13 can eliminate penalties. Most other non-tax bills will go too. In a typical case, you will keep your car, home, household goods, retirement accounts and most other assets. If this is best for you, it is absolutely mandatory that you know what taxes will go and what won't so you can time things right.
After looking at your potential for resolving your tax account another way and considering your big picture, I may recommend you consult a bankruptcy attorney. Filing bankruptcy stops IRS, state and other creditors. It will at least delay foreclosure of home loans giving you some time to find a buyer and salvage some equity.
RECOMMENDATION: With recent changes in bankruptcy laws, you should always hire an attorney if you have tax debts. Always! Do not use a paralegal document preparation service. This is not a do it yourself project. I will refer you an attorney in your area.

Michael S. Cash, Enrolled Agent
Toll Free Phone (866) 711-9467