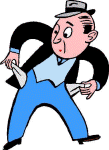 Do You Have a Hardship Case
What can you do if you can't pay anything now because of
Divorce?

Job loss?

Illness, Injury or Disability?

Death of a spouse?

Huge child support obligations?

Chronically low income?

Any other disaster?
If paying now would cause a hardship, IRS will classify your account as currently not collectible and will not bother you until your financial condition improves. I can analyze your situation to determine if you meet the IRS hardship criteria.
All taxpayers who have a balance due receive an annual statement showing what is owed there will not be any threats of enforced collection action. You should not panic if you get a "soft" notice on an old account.